NFC Handset Market to grow at 58.5 percent during the forecast period 2012-2016
Key players in the Global NFC Handset Market include – Samsung Electronics, Nokia, Research In Motion and HTC
As per the latest research, findings by the London based global research firm TechNavio (the syndicated research platform of Infiniti Research), the Global NFC Handset Market is poised to grow at 58.5 percent during the period 2012-2016.
Increasing smartphone penetration and numerous applications of the emerging NFC technology are some of the driving forces that are affecting the growth of this market. However, slow adoption of payment solutions on NFC handset due to lack of popularity and awareness is acting as an impediment for the growth of this market. 
Despite these challenges, the Global NFC Handset market is showing immense potential because of the emergence of some trends like emerging NFC enabled handset for transport ticketing and others.
In 2012, the APAC region was the leader dominating this market with a share of about 40 per cent followed by the Americas and the EMEA region.
Countries like China, Japan, South Korea, Singapore, and India are driving the growth of this market in the APAC region.  Various government initiatives in the APAC region has encouraged the Singapore based  three mobile operators  SingTel, M1 and Starhub, to build a shared NFC infrastructure, which is not only creating consumer awareness about the NFC technology but also encouraging wider implementation of NFC in the APAC region.  Also, China Mobile and Chinese Bank Card Association  has launched their NFC payments service in more than fourteen Chinese cities, including Shanghai, Beijing and Guangzhou, making use of the partners' platform, thus helping in spreading awareness of the NFC Handset Market.
Global NFC Handset Market in the APAC Region 2012-2016 (Units in million)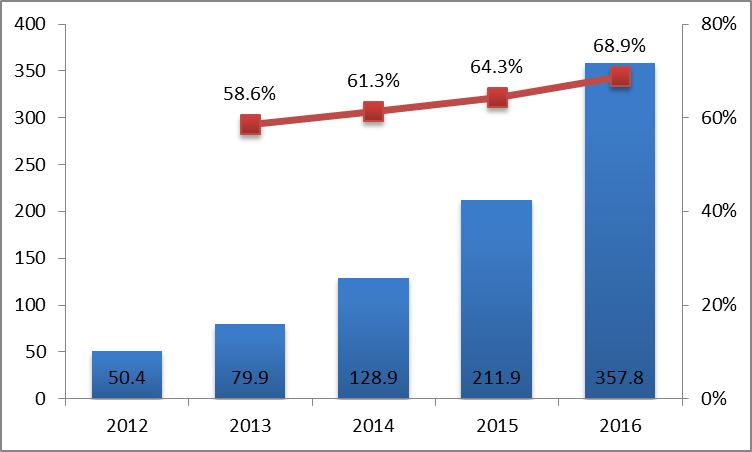 Source: TechNavio Analysis
Speaking on this occasion, one of the senior analyst and co-author of this report said, "In 2012 Android based smartphones dominated the NFC handset market with 107.7 million units shipped in 2012 and is expected to reach 552.9 million units by 2016, growing at a CAGR of 50.6 percent during the forecast period. However the growth rate is expected to decline in 2015 due to the growing popularity of other operating system handsets such as window OS and Apple may also start to deploy in its iPhones having iOS operating system, thus reducing the market share of Android based NFC handsets in the market."
Competition is limited to the 4 larger players: Samsung Electronics, Nokia, Research In Motion and HTC. Patent infringement and price wars affects almost all the leading players in the global NFC handset market.
To determine the scenario for these vendors in the next 3-4 years, TechNavio analysts have conducted in-depth analysis of the impact of drivers, challenges, and trends of this market featuring data on product segmentations, vendor shares, growth rate by revenue, and an evaluation of the different buying criteria in order of importance. 
TechNavio analysts employ primary as well as secondary research techniques to ascertain the size and vendor landscape of the Global NFC Handset Market. Our analysts obtain the information using a combination of the bottom-up and top-down approaches, besides using in-house market modeling tools. They corroborate this data with the data obtained from various market participants and stakeholders across the value chain, including vendors, service providers, distributors, re-sellers, and end-users.
If you are interested in more information on this topic and our upcoming research on https://www.technavio.com/report/global-nfc-handsets-market-2012-2016 please send an e-mail to media@TechNavio.com. 
 About TechNavio
TechNavio is a leading technology research and advisory company with a global coverage. We focus on emerging technology trends that can shape the market. We identify and explain these trends to our customers to help them take better decisions.
TechNavio models the trends using a mix of quantitative and qualitative tools in its proprietary research methodologies. We build forecasts across market segments and geographies based on the trends identified. These forecasts and analysis are used to help our customers identify new and existing opportunities in their markets. We also help customers assess their competitive position in a changing market scenario.
Decision makers and influencers in sales & marketing, strategy, product and R&D teams rely on research from TechNavio. We have a large and growing base of happy customers worldwide. Our customers include technology suppliers, end users, consulting companies, investment firms and research institutes.
Founded in 2003, TechNavio has about 200 analysts globally. We cover more than 500 technologies across 80 countries. Our analysts are closely monitoring the market every day by talking to all the industry participants. We have proprietary databases that provide us with a complete perspective of the market. TechNavio develops over 2000 pieces of research deliverables every year.
Media Contact:
Rituparna Roy
Marketing Manager
+91 9591975898; +44 208 123 1770; +1 630 333 9501          
Twitter: @TechNavio