In case you've been under a rock for a while, we'll fill you in—Fallout 4 came out yesterday.
The latest chapter in the stunningly popular post-apocalyptic game series from Bethesda Game Studios was rumored for ages before the company officially announced its imminent coming in June of this year.
Since then, fans of the series have been all but frothing at the mouth in anticipation.
The high expectations preceding the release and subsequent disappearance of fans for the foreseeable future (IGN reported yesterday that collectively, Fallout fans have already logged 4.5 million hours played) are just the most recent examples of the monumental popularity of video games, not just amongst hardcore gamers, but casual gamers too.
And as bigger and better games are released and eSports take a more prominent place in the gaming pantheon, it's not just the games themselves that matter—it's the tools and peripherals that can really make or break a gaming experience.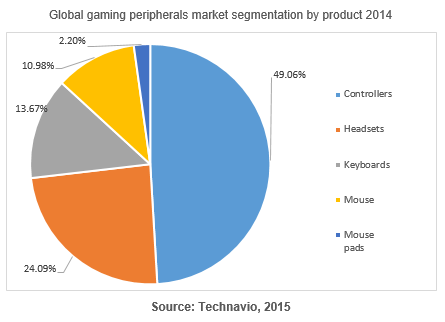 Keyboards, headsets, mice and controllers engineered exclusively for gamers are becoming increasingly popular accessories. In fact, the growth of the gaming peripherals market is outstripping the gaming market itself, with a projected cumulative average growth rate of 12.73% from 2014-2019.
So in honor of Fallout and all things gaming, Technavio analysts have whittled down the top trends in gaming peripherals expected to pop up over the next few years.
Rapid adoption of over-ear headphones
Over-ear headsets provide a better audio experience, and rising disposable income, especially in developing countries, and the growing gaming market has resulted in increasing sales of over-ear headphones, as well as noise cancelling headsets.
Use of touchpad
Vendors are introducing headsets equipped with touchpads, where users can control the volume of a device, or change the equalizer settings with a touch rather than buttons or keys.
Emergence of 3D sound headphones
The emergence of 3D games has led to a high demand for 3D headphones that provide surround sound. These headsets use a special kind of sensor, which detects direction and produce sound accordingly.
Reduction in size of wireless headphones
The technology used in wireless headsets is constantly evolving. Advances in nano chip technology have enabled manufacturers to design wireless headphones that are small enough to fit in, instead of over, the ear.
Increase in consoles with full body cameras
Nintendo Wii was the first gaming console to use body movements for gaming. Its success has propelled vendors such as Microsoft to launch console gaming with body movements. The first version of Kinect needed exaggerated body movements for proper functioning of gaming, but the next generation will use a whole body camera to provide a lifelike gaming experience.
Increased demand for VR headsets
Virtual reality headsets with increased hardware capabilities have resurfaced in the gaming market. These technologically advanced headsets provide an increased field view of over 105 degrees, immersive stereoscopic 3D rendering, and quick response head tracking system.
Growing adoption of wireless peripherals
The penetration of wireless headsets in the gaming industry was 34.04% of the total revenue in 2014. It will continue to grow rapidly during the forecast period and will likely reach 47.54% by 2019.
Technologically advanced gaming keyboards
Mechanical keyboards with high endurance limits have become popular among gamers as they use spring back switches to maintain the flexibility and functionality of keys under continuous use.
Mouse with customization suit
A customization suit enables the mouse to be used differently by every gamer. The bundled software allows gamers to have complete control over the functionality, and it enables the user to tweak RGB, change backlighting settings, and fine tune settings such as polling rate and sensitivity.
Extra-large gaming mouse pads
Vendors are increasingly focusing on customized mouse pads that are specific to gaming. The large size provides the gamers flexibility to move the mouse, especially in low dots per inch (DPI) gaming. The texture of the gaming mouse pad also provides optimum friction and enhances censor performance.