Cloud computing technology is spreading through the IT-sphere like wildfire, as it has created a hassle-free way of accessing a myriad of IT resources and simplified the undertaking of a number of tasks via the internet. With the emergence of cloud computing, the nuances of IT infrastructure have become far more agile and convenient, where mission-critical essentials, such as human resources, equipment, data, external contacts, policies, and procedures, work seamlessly for the overall efficiency of the business process. Embracing cloud solutions can lead to improved business performance, cash flow, efficiency and other associated benefits. The cloud computing market is brimming with solution providers who are building competitive products with disruptive innovations. Cloud solution offerings have recently skyrocketed, with pioneering start-ups and established vendors alike clamoring for customer attention.
Now that the top cloud service providers have revealed their quarterly earnings, we have seen some impressive numbers but no major surprises. The future remains promising for the industry, at least for the top players. Here are the top 10 cloud computing companies who are dominating the cloud wars this year.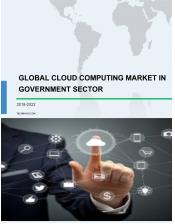 Get your FREE sample now!
1. Microsoft
Microsoft has been at the center of the technology world for years now. Although Microsoft entered the cloud war comparatively late, its deep involvement in all the layers of the cloud has pushed the company to the top. Additionally, its unmatched commitment to developing and assisting customers to deploy Blockchain, Machine Learning (ML), and Artificial Intelligence (AI) in innovative production environments, as well as its market-leading revenue, have allowed Microsoft to remain at the head of the heap.
Microsoft has continued to deliver robust operational performance since Satya Nadella took over as CEO in 2014. The Azure platform, the firm's public cloud service, has played a pivotal role in establishing the brand as the number one player in the space. Microsoft's business is well-organized into three segments: intelligent cloud (including Windows Server OS, Azure, and SQL Server), personal computing (including Xbox, Surface, Bing Search Advertising, and Windows Client) and business processes including Microsoft Office and Dynamics.
2. Amazon Web Service
Amazon Inc. was the early bird to catch the worm with Amazon Web Service (AWS) and has capitalized on big and small enterprises seeking to transfer operations from data centers to the cloud. Amazon Web Service has always had the benefit of a big head start in the cloud computing market. Over a decade ago and long before the competition in the cloud world got off the ground, AWS started offering cloud infrastructure solutions like storage and compute.
Apparently, that head start continued to serve them well and helped them maintain massive market share advantage, despite the presence of other brands in this space including Microsoft and Google (and yes, even Alibaba and Oracle). The progress has continued unhindered while being backed by consistent innovations.
3. Salesforce.com
Salesforce- an American cloud company- pioneered the Software as a Service (SaaS) model. Since its launch, Salesforce has developed a remarkable mix of cloud-based service offerings that help companies manage their business relationships in the customer lifecycle. Salesforce is recognized as the fastest-growing enterprise software company in the world today, with onboard portfolio of products spanning sales, marketing, commerce, service, communities, IoT, analytics and app development, all on a single trusted cloud platform.
Recently, Salesforce has a new partner, Google. Indeed, Google and Salesforce have formed an agreement, one that will see Google's G Suites productivity apps directly unified with the latter's CRM service. The remarkable partnership between the two firms was one of the major highlights of this year's Dreamforce event.
"This is a first of its kind partnership, that we see as the best of both worlds," says Ryan Aytay, Executive Vice President of Business Development at Salesforce. "It brings our businesses together with one priority: to make our customers smarter and more productive."
4. IBM
IBM, Salesforce, Oracle, and Google are battling it out for the third position as the best enterprise cloud. What is particularly interesting is the strategy employed by IBM to leave the competition behind and become the top enterprise cloud platform. IBM's best bets come in the form of the Internet of Things, Cognitive Computing and Blockchain. These services are built on the groundwork of Watson and Bluemix – the cloud and AI platforms from IBM. Both Watson and Bluemics have emerged as the significant differentiating factors for the company.
Bluemix delivers IaaS and PaaS capabilities, whereas, Watson is the result of decades of research from IBM in the disciplines of AI and ML, which focuses on the progressive use cases concerning data and analytics. IBM wants to bring AI and IoT closer in order to deliver unique applications to industry verticals including automotive, healthcare and manufacturing.
5. Google
When Alphabet launched the Google Cloud Platform, the tech giant chose to target SMEs rather than go after established players, but now boasts of major clients such as eBay, Snap, and HSBC, although the latter also uses Azure and AWS. After Google unveiled its quarter two earnings this mid-year, investors are now paying substantial attention to the progress that has been made in the firm's cloud computing business.
Although the company has been subdued by Microsoft, IBM and Amazon in terms of market share, the Google Cloud platform has recently made several moves to increase its entire addressable space and offer a potential distinction from the other Infrastructure as a Service (IaaS) offerings. The bottom line is that the Google Cloud Platform is embroiled in an intense battle with its counterparts, including AWS and Microsoft Azure.
6. SAP
SAP- a German multinational software corporation- has a captivating evolution, moving from standard application software for real-time data processing to cloud applications (SaaS) for all lines of business and a market-leading cloud platform. For decades, SAP has been the world leader in the disciplines of cloud computing and enterprise applications, with strategic acquisitions and continued innovations.
Under CEO Bill McDermott, strong partnerships with Google and Amazon were made to complement the company's long-standing tie-ups with Microsoft and IBM, all of which helped it gain a heightened sense of confidence from its customers. Additionally, SAP's HANA in-memory technology is now in full deployment across a number of businesses, and as it continues to rationalize its large product portfolio in the cloud, SAP has a very bright future ahead of it in the global cloud market.
7. Oracle
Oracle Corp., a leading database software vendor, unveiled its ambitious program in the space of cloud computing in 2015. The company announced its plan during the Oracle OpenWorld event to expand its portfolio in analytical cloud services, cloud applications, IaaS and cloud integration services. Since that time, Oracle has not looked back and has grown at an unprecedented pace.
Oracle Corp. was comparatively late to the cloud race, allowing upstarts like Salesforce.com to gain significant market share with software delivered over the internet, and has struggled as a result. However, it now seems that Oracle has finally figured out the larger picture, is in active innovation mode, and is a surefire bet for the future.
8. Workday
From SaaS solutions to HR and finance teams, Workday has developed innovative solutions and recognizable products. It also caters to professional services automation, enterprise planning, and higher education solutions.
There is no denying that Workday is taking full advantage of its relentless growth and buoyant client reputation to challenge much-larger SaaS rivals such as Oracle and SAP. This success is mainly due to Workday's impressive marketing and sales efforts in the massive cloud financials and ERP market, as well as their aggressive steps toward the PaaS business.
9. ServiceNow
ServiceNow is definitely a player to watch out for in the software space and is a fast-growing public organization in the IT arena. The current market value of ServiceNow is hovering around $14 billion. Its growth rate, technical approach, customer loyalty and ability to attract and retain talent have made it a firm favorite on Wall Street. Moreover, the company has put forth a large-scale plan to redefine IT service management (ITSM) and take the disciplines of process management further into the line of business units.
10. VMware
After becoming an established virtualization company, VMware entered the cloud space with its innovative cloud platform, allowing customers to securely deliver access to data and applications for their end users from multiple devices. VMware recently partnered with AWS, the online giant's cloud computing arm, to provide clients with a more integrated solution.

Is cloud computing the right fit for your business? Let's chalk out strategies that work best for you, CLICK HERE to get the ball rolling.