On the surface, the construction industry in the Philippines is thriving and healthy. The use of innovative and sustainable practices and the steady demand for public infrastructure and residential development are contributing to the growth of construction in the country, and the open market is attracting a number of global investors. Overall, this activity is generating a projected CAGR of 14.86% from 2014-2019 in the construction market in the Philippines.
And while this construction activity is certainly positive, it also serves as a reminder of the relatively recent adversity that the country has faced.
Reconstruction is driving market growth
A lot of new construction projects in the Phillipines are coming as a result of the devastation caused in November 2013, by Typhoon Haiyan. The storm was one of the strongest tropical cyclones ever recorded—a Category 5 disaster on the Saffir-Simpson hurricane wind scale—and killed an estimated 6,300 people in the Philippines alone.
On top of the catastrophic loss of life, the tropical storm also caused a huge amount of infrastructure damage, costing the government an estimated $14 billion.
In 2014, a number of large-scale reconstruction projects were rolled out, including initiatives to repair Tacloban City's main airport, seaports, cargo terminals, power lines, hospitals, and mobile network stations.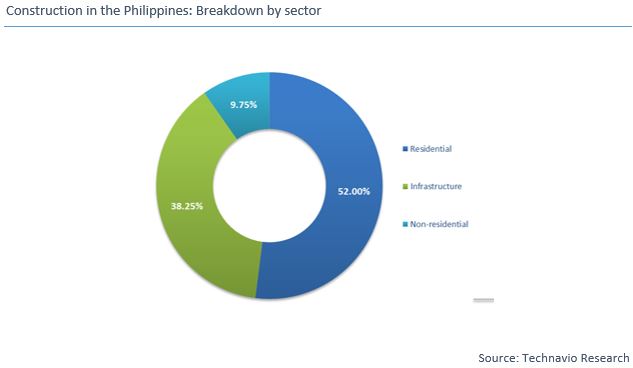 Infrastructure construction
The infrastructure construction market in the Philippines attracted investment of $6.76 billion in 2014, which is expected to more than double 2019.
Steady, sustained economic growth and growing residential construction have generated a rise in demand for public and social infrastructure. The government has planned to increase public spending on airports, bridges, roads, railways, ports, and ferry services, as well as on potable water and irrigation projects. Philippine Development Plan 2011-2016 set out a plan to increase spending on infrastructure development, and increase the contribution of the infrastructure sector to more than 5% of the GDP before the general election in 2016. This increase in investment and rise in demand for public infrastructure is fueling the growth of this sector in the country.
Residential construction
Residential construction in the Philippines attracted investment of $9.19 billion in 2014, which is expected to balloon to more than $18.34 billion by 2019.
This growth is primarily due to major population growth in the country, and the related demand for housing. Additionally, millions of citizens were displaced and relocated because of the widespread destruction from Typhoon Haiyan. To accommodate the displaced population, the government is investing significantly in reconstruction operations in typhoon-hit areas.
To meet the booming demand for housing, the Housing and Land Use Regulatory Board is planning to build one million housing units by 2016, in addition to 301 condominium projects in Manila alone.