According to new information from Technavio, the global social business application market is expected to more than triple in value and reach $22.91 billion by 2019, growing at a cumulative average growth rate of 26.16% from 2014-2019.
The market is roughly segmented into four categories:
Enterprise collaboration and communication tools
Marketing automation tools
Digital asset management tools
Social media marketing tools
Global social business application market segmentation 2014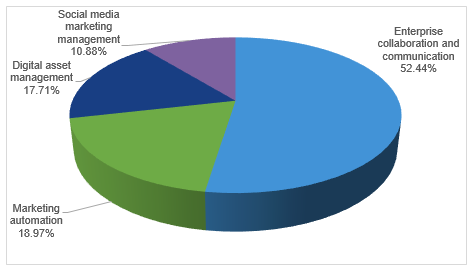 Source: Technavio, 2015
While there are a number of vendors offering a range of solutions and services to help organizations better manage their social assets, Technavio analysts have pinpointed four companies expected to drive big growth in the social business apps market.
Adobe Systems is one of the leading vendors in the global social business application market. The company offers a social media platform to help companies monitor and measure the social impact of their marketing efforts.
Adobe Social enables better management and governance of web pages, by offering flexible ways to assign roles and permissions and track how social, customer service, and community teams are interacting with brand followers. The solution also helps govern who publishes content and who can moderate customer comments.
With this solution, the marketing team get access to real-time data, can quickly respond to comments and track everything happening on social media.
Adobe Social also allows organizations to publish their posts to multiple platforms and audiences at once across all social network platforms including Facebook, Twitter, Google+, LinkedIn, YouTube, and Sina Weibo.
On top of managing social accounts, the company's social analytics solutions help enterprises discover what types of posts are gaining traction across social networks. The solution also offers competitive analytics, which helps companies monitor competitors' social pages and posts to understand overall brand performance.
With more than 10 million users, Hootsuite is one of the most widely used social relationship platforms. A few of the social business apps offered by the company are:
Here on Biz: This app was developed to help LinkedIn contacts connect offline by sending an alert when a contact checks in nearby. For example, if a person is at a conference and checks in with the 'Here on Biz' app, the user will get a list of other contacts who have checked in, categorized by local professionals, visiting professionals, and event attendees.
Evernote Business: In 2012, the company launched Evernote business, a follow-up to its note-taking app, Evernote. This app enables colleagues to create shareable notebooks in the cloud.
UberConference: The UberConference app brings a visual element to audio calls. The on-screen display shows instant profiles of all participants with names, photos, and other information pulled in from the address book and social networks.
Nimble: Social media platforms have generated the new source for lead generation and client insights. However, tracking all a potential client's details has become difficult. The Nimble app consolidates all of a potential customer's social activity from different platforms such as Twitter, Facebook, and email. Also, the shared social connections between the client and the user will appear automatically, paving the way for personal introductions.
Hootsuite: The company's namesake app is a single web-based dashboard that enables users to track and post to all the company's social profiles including Facebook, Twitter, and LinkedIn. With the use of analytics software, it shows which posts are actually getting viewed and clicked on, and generates real ROI.
The Oracle marketing solution includes budget management and marketing planning, e-marketing, event marketing, campaign management, partner marketing, integrated content management, customer management and list management, and marketing intelligence. The solution is focused on enhancing marketing operational efficiency.
Oracle marketing aligns marketing and sales initiatives and offers customer insights, enabling marketing measurement and accountability.
The company also has a social media marketing solution, which provides insights to marketers by tacking responses, clicks, and purchases made by consumers. It targets online customers with the help of web ads, web offers, and product recommendations.
Salesforce.com is one of the leading providers in the global social business application market.
The product features email, mobile, and web marketing, which includes campaign management, predictive intelligence, mobile messaging, and data analytics. The social media marketing program includes social listening and analysis, content marketing, community management, and social care.
Other major products offered by Salesforce.com include digital advertising, which includes media optimization and audience management with the help of social media platforms like Facebook, Twitter, and LinkedIn. Its B2B marketing focuses on lead generation, lead qualification, lead nurturing, and lead tracking.
Salesforce.com is one of the major vendors offering marketing solutions on the cloud platform, which helps reduce the upfront cost involved in implementing the software.