Jay Z made waves in March with the launch of his online music streaming service Tidal.
The service's website boasts that it is "the first music streaming service that connects artists with fans through the best High Fidelity sound quality, High Quality music videos and expertly Curated Editorial".
But despite such big claims, Tidal is already being considered a flop.  It has fallen off the top 700 U.S. App Store chart, and doesn't seem to have even ruffled the feathers of rival apps like Pandora and Spotify.
Why Tidal is failing to capture the hearts and minds of music fans
Music streaming services are more popular than ever, with revenue from said services expected to pass the $5 billion mark by 2019, according to new research from Technavio. So in an industry that's otherwise booming, why did Tidal fall flat?
Supporters and critics alike are pointing to two key details that may be making Tidal hard to swallow for consumers.
First, there's the cost. Unlike Rdio, Spotify and other popular streaming services, Tidal doesn't have a free option. Users have the choice of paying $10 a month for digital-quality music, or $20 a month for CD-quality.
In the music streaming services industry, the subscription fee is key. Most consumers are willing to pay a small fee (both Rdio and Spotify cost around $10 per month for offline streaming), but the free option is instrumental in attracting customers in the first place.
The other big issues is that Tidal seems to position itself as a platform that gives artists and other professionals in the music industry a better cut of the revenue from the service. While this would be great news for everyone from indie artists to sound techs, Tidal made the massive mistake of using superstars like Nicki Minaj, Kanye West and Rihanna to launch the app, which didn't exactly garner a lot of sympathy from consumers.
In a recent Financial Post article, Patrick O'Rourke wrote:
Giving multi-millionaires yet another way to make money, and not placing an emphasis on independent artists who have been more affected by the rise of music streaming than the average pop star, left many cynical about Tidal's potential success. Many mocked the #TIDALforALL hashtag that trended on Twitter during the first few days of Tidal's launch.
Despite criticism, Jay Z's service isn't out of the music streaming race
Tidal is not dead yet. Yesterday, Digital Music News shared a royalty statement from an anonymous indie label, which lists how much they made per stream from Tidal in March.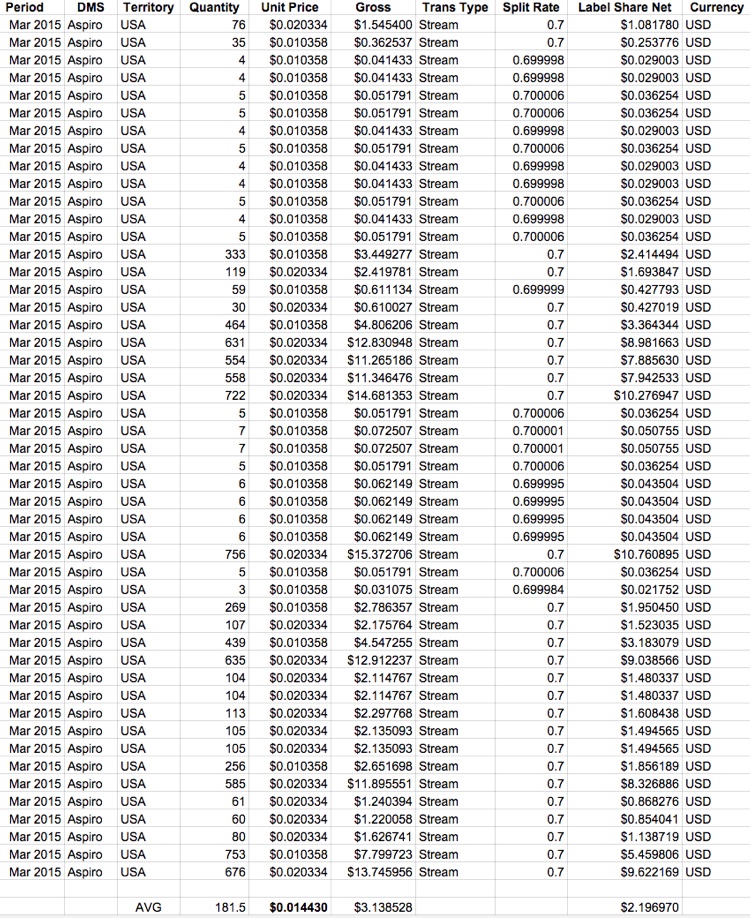 Image Source: Digital Music News
Although one statement from one label isn't enough to make any conclusions about whether the service will be successful or not, it would seem that Tidal does pay a decent royalty rate.
Additionally, there are other Tidal-related services that have yet to be launched, which might rescue the app's faltering reputation. In an interview with Smashd, Tidal CIO Vania Schlogel discussed Tidal Discovery, a feature that will supposedly make it easier for indie artists to upload their music directly to the service instead of going through a third-party.
"When it comes to the distribution of music, I want to get a point where there are no blockades for artists in order to be able to easily do that for themselves," Schlogel told Smashd.
"The end game being that we want everyone to be able to self-upload their own music and then track it very intuitively through this artist dashboard," she explained.
It's early days yet, but it will definitely be worth keeping an eye on Tidal to see whether it will be able to stay afloat in an increasingly competitive market.