Growing awareness of preventive healthcare measures is a major reason behind the increased demand for herbal supplements. According to our industry experts, in the next five years, the global herbal supplements market will be worth more than USD 85 billion.
Read: How the Americas Continue to Dominate the Bone and Joint Supplement Market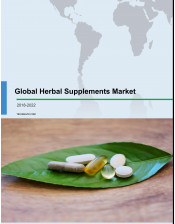 Get your FREE sample now!
Top-7 companies leading the charge for the herbal supplements industry
Today, herbal and dietary supplements are big business and the following seven manufacturers are leading the pack when it comes to the associated R&D, promotions and distribution of nutritional supplements.
 1) Gaia Herbs
CEO: Richard Scalzo | HQ: North Carolina
A major name in the herbal supplements market, Gaia Herbs manufactures functional foods, herbal syrups, solid extracts and elixirs, and herbal immune support and stress response products. Relying heavily on the concept of 'plant intelligence', Gaia Herbs believe that the future of traditional herbal medicine lies in modern science.
In news for: Recently, at the Natural Products Expo West, the company launched a new capsule supplement named "Gaia Turmeric Supreme." The nutritional supplement addresses the root cause of the systemic imbalance and is part of Gaia Herbs system-support product line.
2) Herb Pharm
CEO: Ed Smith and Sara Katz | HQ: Oregon
The creators of best selling liquid herbal extract line, Herb Pharm has integrated traditional herbal knowledge with modern herbal science to produce superior quality herbal products. They provide a wide range including herbal compounds and tonics, single herb extracts, and herbal capsules & powders. Herb Pharm's Oregon based farms have been certified salmon-safe, bee-friendly, and organic in nature.
In news for: Early this month, Herb Pharm joined the 'B Corporation movement', after the company met the rigorous social and environmental standards setup by B Lab.
Read: How the Brain Health Supplements Are the Go-to Nutrition for Boosting Brain Health
3) Nature's Bounty
CEO: Dipak Golechha | HQ: New York
This US based company is a leading manufacturer of nutritional supplements like melatonin, fish oils, omega 3, etc. Nature's Bounty manufactures a special range of products for diabetic patients, under their specialty supplements section. Sundown Naturals, Osteo Bi-Flex, Solgar, MET-Rx, Pure Protein, Body Fortress, Balance Bar, and Puritan's Pride, are some of the company's other popular brands.
In news for: In February of this year, legendary gold medal figure skater Dorothy Hamill collaborated with Nature's Bounty to champion a movement towards better health.
4) Nutraceutical Corporation
CEO: Bruce R Hough | HQ: Park City Utah
Formerly known as 'Nutraceutical Newco', Nutraceutical Corporation is known as a "vertically integrated" company. The core business strategy of the company is to acquire, integrate and operate businesses in the natural products industry. Granola, Nature's Discount, and Warehouse Vitamins, are some of the health food stores owned by Nutraceutical Corporation. The company's popular dietary supplements brands are LifeTime, NaturalCare, Solaray, and Health from the Sun.
5) Rainbow Light Nutritional Systems
VP of Business Development: Ray Petrick | HQ: California
One of the leading names in the global herbal supplements market, Rainbow Light offers organic vitamins, minerals, and nutritional supplements. The gummy vitamins for children, canine nutritional supplements, and prenatal vitamins, are some of its most popular nutritional supplements. Rainbow Light has to its credit the launch of the first food-based line of supplements for superior digestibility & increased energy support.
In news for: In 2017, the company's Rainbow Light Vibrance™ Women's Multivitamin, was recognized by Delicious Living magazine as the 'Best Multivitamin' in its lineup for the Supplement Awards.
Read: The Top 10 Vendors in the Global Vitamin Ingredients Market
6) Bio-Botanica Inc.
CEO: Frank D'Amelio Sr. | HQ: New York
Bio-Botanica is a leading manufacturer of botanical extracts for personal care/cosmetic, food and beverage, flavor /fragrance, supplement, and nutraceutical industries. Nature's Answer, Holistic Balance, and Woodstock, are some of its popular retail brands. Under its proprietary process named 'Bio-Chelation', the company uses cold low alcoholic method to process plants and extract its constituents.
7) Arizona Natural Products
CEO: George F. Dembow | HQ: Arizona
A leading name in the herbal supplements market, Arizona Natural Products pioneered the manufacturing process to make an allicin-rich deodorized garlic supplement. The company manufactures symptom-specific formulas to promote better immune system and management of cold and flu. EDTA, Chaparral, and Wild Bear's Garlic (Ramsons), are some of its unique product offerings.