Software-defined storage (SDS) is gaining increased traction worldwide. Vendors have brought about several technological innovations to cater to the growing data volumes; increasing volumes of unstructured data have prompted vendors to enhance their cloud and big data analytics setups.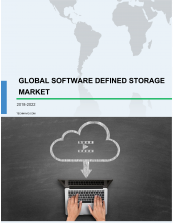 Get your FREE sample now!
In 2014, many large enterprises transformed their data center infrastructures into SDDCs. The adoption of SDS, big data analytics, and cloud computing is expected to increase steadily during the forecast period. Many vendors have intensified their R&D efforts to foster more technological innovations in SDS. This stems from an increased need to satisfy the varied business requirements of different industry verticals.
TechNavio has identified the top 12 companies in the Software-Defined Storage Market helping to fuel market growth at a CAGR of 35.20 percent from 2014-2019:
EMC provides intelligent software-defined storage solutions that help organizations drastically reduce management overhead through automation across traditional storage silos and pave the way for rapid deployment of fully integrated next generation scale-out storage architectures.

EMC® ViPR® is software-defined storage to manage and automate all storage resources for traditional and next-generation cloud storage platforms. EMC ViPR Controller is storage automation software that centralizes and transforms storage into a simple, extensible, and open platform. It abstracts and pools resources to deliver automated, policy-driven storage services on demand through a self-service catalog – reducing time, cost, and risk.
---
HP has been a player in Software-Defined Storage and the Software-Defined Data Center since inception and the only vendor capable of delivering on all elements of the software-defined data center —compute, networking, storage and management—offering a complete SDS strategy and vision based on simplicity, efficiency, and openness that makes storage availability a top priority.

Hp's StoreVirtual VSA is a proven enterprise feature set that delivers the capabilities and performance you expect from a traditional SAN at a fraction of the cost. HP's StoreOnce VSA provides low cost data protection that delivers fast, efficient, and scalable backup with no dedicated hardware required.
---
New era cloud environments and applications such as analytics, mobile and social are driving huge growth in data volumes, making data the new natural resource. But cost-effectively optimizing your current storage environments while at the same time exploiting new opportunities is straining storage budgets. The solution — IBM Spectrum Storage™.

IBM Spectrum Storage unlocks the potential of data and increases your business agility and efficiency in ways that weren't possible until now. Spectrum Storage enhances the speed and efficiency of your storage and simplifies migration to new workloads by:

Simplifying and integrating storage management and data protection across traditional and new applications
Delivering elastic scalability with high performance for analytics, big data, social and mobile
Unifying silos to deliver data without borders with built-in hybrid cloud support
Optimizing data economics with intelligent data tiering from Flash to tape and cloud
Building on open architectures supporting industry standards including OpenStack and Hadoop
---
NetApp is an important vendor in the Global Enterprise Storage market. The company established a sizeable market presence in the SDS space. Its SDS offerings include NetApp clustered Data ONTAP OS, NetApp OnCommand, NetApp FAS series, and NetApp FlexArray virtualization software. Some salient features of NetApps SDS are:

Virtualized storage services: Includes effective provision of data storage and access based on service levels

Multiple hardware options: Supports hardware deployment in a variety of enterprise platforms

Application self-service: Delivers APIs for workflow automation and custom applications
---
VMware Software-Defined Storage (SDS) transforms storage on virtualized environments by aligning it with application demands. We are driving transformation through the hypervisor, bringing to storage the same operational efficiency that server virtualization brought to compute.

In the VMware SDS model, the data plane, responsible for storing data and applying data services (snapshots, replication, caching, and more, is virtualized by abstracting physical hardware resources and aggregating them into logical pools of capacity (virtual datastores) that can be flexibly consumed and managed. By making the virtual disk the fundamental unit of management for all storage operations in the virtual datastores, exact combinations of resources and data services can be configured and controlled independently for each VM.
---
With the rapid, and increasing, commoditization of hardware for computing, networking and storage, CIOs are increasingly realizing and embracing the need to shift from traditional IT strategies to highly virtualized and automated infrastructures, preferably running on scale-out building blocks and Ethernet. Server virtualization has become the norm for compute platforms, and software-defined networking is rapidly reshaping the networking industry. To complete the transformation, Coraid is now combining its scale-out EtherDrive storage platform with its new EtherCloud automation platform to become an early leader in software-defined storage.
---
DataCore Software is a leader in software-defined storage. The company's storage virtualization software empowers organizations to seamlessly manage and scale their data storage architectures, delivering massive performance gains at a fraction of the cost of solutions offered by legacy storage hardware vendors.

Backed by 10,000 customer sites around the world, DataCore's adaptive and self-learning and healing technology takes the pain out of manual processes and helps deliver on the promise of the new software defined data center through its hardware agnostic architecture.
---
The Dell and Nexenta software-defined solutions combine proven Dell hardware coupled with comprehensive, open source-based Nexenta software. These solutions enable enterprise data centers to meet capacity and performance requirements cost-effectively and to upgrade as needed, without disruption. The complete hardware and software stack of server, network and storage includes:

SAN and NAS support
Unlimited snapshots and cloning
Block and file replication
Inline deduplication
---
Hitachi Virtual Storage Platform G1000 provides the always-available, agile and automated foundation needed for a trusted continuous-cloud infrastructure. Powered with Hitachi global storage virtualization, its new software capabilities unlock IT agility and enable the lowest storage TCO.

We are delivering the industry's best combination of enterprise-ready software-defined storage, advanced global storage virtualization, and efficient, scalable, high-performance hardware. This combination enables the continuous operations, self-managing policy-driven management, and agile IT demanded by today's new breed of cloud applications.

Hitachi Virtual Storage Platform G1000 (VSP G1000) with Hitachi Storage Virtualization Operation System (SVOS) is the next generation of enterprise storage that redefines storage virtualization and resets customer expectations.
---
Pivot3 was founded in 2003 on the idea that today's stack of virtual servers, shared storage and networks could be radically simplified and unified through software innovation to dramatically increase scale-out performance while driving down complexity and cost. The founders of Pivot3 applied their virtualization and storage RAID expertise to invent software defined storage.  This led to the development of the patented vSTAC (Virtual Storage and Compute) operating system that runs on x86 commodity hardware and embeds server virtualization deep into the shared storage layer.

Today, the company has over 1,200 customers across the globe, for a total of over 12,000 appliances, and more than 220PB of overall installed storage. Pivot3 customers rely on purpose-built appliances for high-capacity video surveillance and high-IOP virtual desktop environments. The company is the leading supplier of IP SANs to the video surveillance market and most recently became the first partner certified in VMware's Rapid Desktop Program for virtual desktops. Customers rely on Pivot3 for simplicity, scalability and savings.
---
Red Hat and HP have been collaborating to bring effective scale-out storage solutions to the market. The HP ProLiant SL4540 Gen8 Server combined with Red Hat Storage offer massive scalability, high performance, and volume economics for storage of all kinds of unstructured data. This solution is ideal for:

Large file and object store
Enterprise drop box and content cloud storage
Near-line archiving

Providing scalability and flexibility without disruption, this economical alternative to traditional Enterprise storage solutions will change the way you look at storage of unstructured data.
---
SwiftStack delivers enterprise customers with a reliable, massively scalable, software defined storage platform.Our platform seamlessly integrates with existing IT infrastructures, running on standard hardware, and replicated across globally distributed data centers.

SwiftStack is proud to have launched an industry first – a software-defined storage controller. This unique architecture enables enterprises to achieve the same scale-effectiveness as large scale web and public infrastructure clouds.

SwiftStack uses a software-defined storage controller to create simplicity out of a complex system. The SwiftStack Controller orchestrates all aspects of the storage environment.