Beer is big business, and over the past few years, the global beer market is brewing up a burgeoning industry. Across the world, it is the highest consumed alcoholic beverage and third-most commonly consumed beverage after water and tea. Competitively, there has been an uneasy quiet in the global beer market for a long time. Beer brands have carved out territories for themselves while operating in close proximity to their competitors.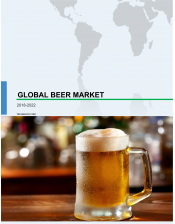 Get your FREE sample now!
In 2018, change is a necessary feature in the beer industry. The target audience has evolved and the beer brands must adjust accordingly. Millennials- the key demographic- are interested in where, why and how their beer is brewed. A surge of new beer brands have entered the fray, while existing companies have innovated broad ranges of new products. Unsurprisingly, the competition is fierce.
Here are the top 10 biggest beer brands that will look to dominate the market in 2018:
1) Anheuser-Busch InBev
Despite the predictions about the global and American beer market continuing to lose ground to spirits, wine and marijuana, the bigger beer manufacturers have surprisingly reported strong growth and earnings in 2017. Anheuser-Busch InBev, based in Belgium, has surpassed growth expectations as compared to its competitors and consequently sits atop the global beer market.
Although sales of its flagship brands Bud Light and Budweiser continue to drop, AB InBev's acquisition of SABMiller recently combined with earlier rights to Corona and Stella Artois has boosted its value globally. The brewer distributes its product portfolio of 500 beer brands through a massive network of over 600 independent company-owned distributors and wholesalers nationwide.
2) Heineken
Dutch-based beer brand Heineken has been a global brewing leader for the last 150 years. Today, as the No. 2 brewer in the world and No. 1 in Europe, they are ramping up production via the use of advanced and breakthrough technologies such as Big Data and Artificial Intelligence (AI). Heineken sells more than 8.5 million barrels of its beer brands in the U.S and expects those numbers to increase with data-driven developments and AI augmentation to its operations, advertising, and customer experience.
Founded in 1864, the company owns over 160 breweries in more than 70 countries as of 2017. Heineken produces regional, local, international and specialty beers and ciders. The company's international brands include Amstel, Desperados, Sol, Affligem, Tiger, Tecate, Red Stripe and Krusovice.
3) China Resources Snow Breweries
Headquartered in Hong Kong, China Resources' beer business is well known for its "Snow" beverage, accounting for about 20% of the Chinese beer market. Its flagship brand Snow is now one of the top-selling beer brands in the world. Although a lead in the domestic beer market, China Resources' beer portfolio is little known elsewhere. As of 2017, it operates 98 breweries in 25 provinces, administered municipalities, and autonomous regions in Mainland China with an annual production capacity of more than 20 million kiloliters.
China Resources Snow Breweries is a joint venture between SABMiller and China Resources Enterprise. However, after the former's acquisition by Anheuser Busch InBev, China Resources bought out the remaining stake.
4) Carlsberg
Founded in 1847 by J.C. Jacobsen, Carlsberg is one of the leading international brewery groups in the world today, with a vast portfolio of beer and other beverage brands. Since the 1990s, Carlsberg has been achieving steady but modest growth in sales and profits, despite an intensely competitive beer market. In March 2016, the Carlsberg Group introduced its new strategy, SAIL'22 to set a new direction for the Group with a significant focus on its core beer business and distinct areas for future progress.
Once a big beer brand with small corporate footprints, Carlsberg group became the world's fourth-largest beer company within the past two decades as it acquired other small beer makers including Kronenbourg. The company now operates 140 beer brands worldwide.
5) Molson Coors Brewing
Incorporated in 2003, Molson Coors is a leading global brewer with 31 breweries, selling its diverse portfolio of over 90 strategic and partner brands in more than 50 countries. The company has a strong presence and brand momentum in three of the world's largest markets. It is the second largest beer company in the US by way of MillerCoors and SABMiller, a leading brewer in Canada via Molson Coors Canada and a top-tier brewer in the UK and Central Europe through Molson Coors Europe.
Long-time adversaries, US-based Molson Coors and UK-based SABMiller put aside their differences to merge their operations in the US and Puerto Rico in a joint venture, MillerCoors. MCBC continues to acquire a growth strategy that includes building a stronger brand portfolio, growing the market share among its core brands, delivering value-added innovation, and growing its business in the premium, craft, and cider markets.
6) Tsingtao Brewery Group
Tsingtao Beer, one of China's oldest beer companies, is gaining immense popularity around the world and has been successful in establishing a high-end Chinese beer brand image worldwide. With a history of 115 years, the Qingdao-based brewer has been selling its products in more than 100 countries. Its Western Europe sales grew 8% last year, while sales in the overseas market increased by 12%.  As per the Centre of International Communication Studies, Tsingtao has acquired over 90% brand recognition in several developed countries in Europe and North America.
This beer brand is developing more and more customized products to meet the growing demands of different customers, including beverages brewed with dates and peaches. Tsingtao is looking forward to experimenting with new tastes and varieties through co-operation with its European partners. Tsingtao adheres to a "high-quality, high-visibility and high-price" strategy.
7) Asahi
Founded in 1889 in Osaka as the Osaka Beer Company, Asahi Breweries kept the No. 1 position in sales volume in Japan for twelve straight years, after it launched Asahi Super Dry, Japan's first dry draft beer. The company, celebrating its 128th anniversary, produces a wide variety of beer products and other alcoholic beverages to meet the varied needs of its customers. The Asahi Breweries Group is expanding its business to products beyond just alcohol, including foods, and pharmaceuticals.
Asahi Breweries is reaping the benefits after strengthening its foothold in the European marketplace. It did this by acquiring beer brands that catapulted it to be listed amongst the five biggest brewers in Asia. As demand for beer products wane at home and local competition with rivals like Kirin Holdings Co. intensify, Asahi is stepping up to expand overseas.
8) Yanjing
Beijing Yanjing Beer Group, a China-based company, started off as Yanjing Brewery before consolidating into a group of companies that is categorized by the state, and is known for its top-quality beer products. Beijing Yanjing Beer is currently the country's fourth most popular brand.
The company distributes its vast product portfolio, which includes beer, distilled wine, feed, materials, yeast, plastic boxes and mineral water under the brands Liquan, Huiguan, Yanjing, and Xuelu. Yanjing mainly targets the domestic market, particularly South China and North China.
9) Kirin
Japan based Kirin is one of the largest producers of beverages, and its subsidiary Kirin Brewery Company is one of the largest beer brands in the world. The company holds a stake in Myanmar Brewery Limited as well as Asia Pacific Breweries and owns Kirin Europe, Kirin Brewery of America, Philippine-based San Miguel Brewery and other subsidiaries. In Japan, the company's Ichiban Shibori and Kirin Lager are among the well-known beer brands, while its Kirin Tanrei is a popular low-malt beer.
10) Groupe Castel
The Castel Group was founded in 1949. For over six decades, the company has devoted its skills and energy to spreading the word about French wines, globally, and developing the soft drink and beer sectors in Africa. Castel is a globally recognized name, symbolized by a wide range of acclaimed Châteaux and brands, and with an established presence in over 130 countries.
The majority of Groupe Castel beer products are produced in Africa, where it expanded in 1990 with the purchase of Brasseries et Glacières Internationales (BGI). Flag and Castel are its most popular and enduring beer brands.