Technavio has published a new report on the global healthcare information systems market, which explores widespread applications for healthcare IT, as well as market projections and key vendors in the burgeoning healthcare info systems sphere.
How beneficial are healthcare information systems?
Healthcare information systems help capture, store, manage, and provide access to information that is directly or indirectly related to medical services, through software- and web-based solutions.
Historically, the healthcare industry has been one of the slowest to adopt advanced information systems, more and more clinics and hospitals are now seeing the benefits and implementing these systems. Physicians are shifting towards electronic health record (EHR) systems and replacing out dated paper-based patient records with digital records that are easily accessed, regardless of location.
For these reasons, Technavio's market research analysts expect the global healthcare information systems market to grow at a CAGR of 8.43% from 2014-2019.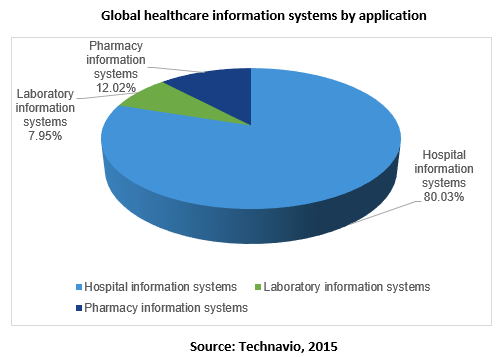 At this point in time, the hospital information systems account for the bulk of the market with a market share of more than 80%. This is followed by pharmacy and laboratory information systems.
Demand for personalized healthcare services spurring growth in healthcare info systems
One of the big reasons for the consistent growth in the market is growing demand for high-quality, personalized healthcare.
Personalized health services make communication between patients and healthcare providers easier, since it allows patients to monitor their own health and maintain a database of health records which can be accessed online.
This gives patients the power of mobility, since they can recover medical data like laboratory test results, prescriptions, and other digital information from anywhere through their mobile devices.
And personal health records don't just help patients—they also help doctors track their patients' health improvement by sending daily updates on a patient's condition.
Another notable feature of personal health record systems is that they help reduce the number of routine hospital visits and medical tests, as they provide insights into patient's health based on their history.
Apart from the global healthcare information systems market, Technavio also covers a wide range of healthcare-related markets, including: