Anyone who has ever gone to watch a video, only to get a pesky 'file format not recognized' message knows the true magic of transcoding. Changing a media file from one format to another with the click of a button isn't exactly a new concept, but the market is having a renaissance (and growing at a 15% CAGR from 2015-2019) thanks to software-based transcoding. 
Software Applications Redefining the Market
The media and entertainment video transcoding market was actually on a decline until 2010, but the introduction of software into a market that was previously considered hardware-centric has been a boon to market growth. Open source, as well as commercial software are popping up more and more as everyday consumers demand more user-friendly technology.
Other than the influx of software, the video transcoding market has gotten a boost from several factors. Technavio analysts have whittled down the key ones, to bring you the top four drivers in the video transcoding market.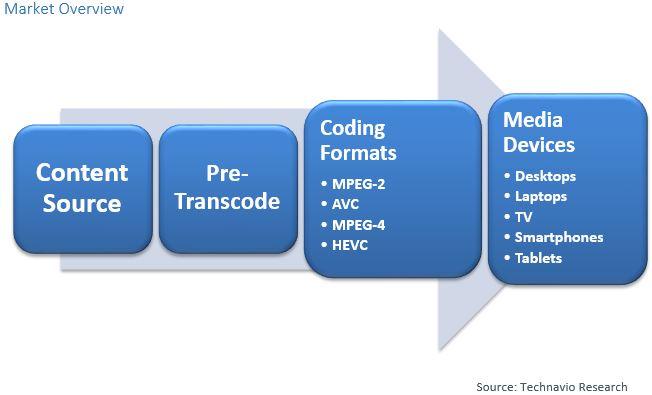 What's Driving Video Transcoding Market Growth?
---
High Growth in SaaS Offerings
It hasn't taken long for consumers to welcome the SaaS revolution in a traditionally hardware-centric market. Big brands such as Google and Amazon have been active in this segment, and for large media content, there are multiple online video encoding options. SaaS can not only encode and transcode video but also store it on the cloud, so that it is globally available.
High Opportunity Cost for Cloud-based Transcoding
Onsite transcoding can be a costly, lengthy process to set up. Cloud-based solutions, on the other hand, can significantly reduce initial investment and time to market. They also reduce ongoing costs, resulting in significant savings in terms of total cost of ownership.
Shifting live workflows to the cloud is making better economic sense every day, as capacity increases, costs decrease, technologies mature, and the financial trade-off between top-line revenue growth and bottom-line savings becomes much more difficult to ignore. As vendors are striving to improve their ability to deliver live linear video on a huge scale, reducing their cost of operation continuously, the value proposition and ROI is getting better. Competitive pressures have forced content companies to evolve or perish, and the cloud today is the most intriguing option from cost and time-to-market perspectives. It is time for content companies to disengage from outdated business models and embrace alternatives over traditional models.
Growing Need for Transcoding with Increasing Number of Portable Devices
Sales of mobile devices and increased internet penetration have driven up the consumption of video content. But with the limited bandwidth available, it has become a challenge for broadcasters and video streaming service providers to deliver the optimal video viewing experience to the consumer. To overcome this challenge, vendors in the video broadcasting industry are opting for transcoding services, to provide an optimal video viewing experience across different devices.
Unprecedented Growth in Video Streaming
With the increase in Internet speed and improvements in video quality, there has been a steep increase in video data streaming. In 2014, the average video traffic over the Internet was estimated at 21.88 exabytes per month. This is expected to reach 79 exabytes per month by 2019, growing at a CAGR of 29.28%. This increase has boosted the demand for transparent caching and ensured better QoS is provided to viewers by reducing the load and stream time of the video.