Technavio is set to publish new industry analysis of the global integration platform as a service (iPaaS) market, which is expected to grow at a CAGR of 37.76% from 2014-2019.
iPaaS is a cloud integration platform that assimilates applications to improve efficiency. An iPaaS solution attends to the development, execution, and governance of the integration process for on-premise or cloud-based applications, and it includes batch and real-time integration services, an application programming interface (API) framework, master data management (MDM), data quality tools, and security measures. In addition, most iPaaS vendors provide maps and other necessities to boost the development process and help organizations with related requirements.
Organizations are increasingly adopting these solutions, as enhancing the process of developing, deploying, and managing enterprise applications has become a priority. Though this process continues to depend on individual and enterprise developers, companies are focusing on iPaaS solutions to help them manage applications in a cost-effective manner, which will help the market more than quadruple in value and reach $949.8 million by 2019.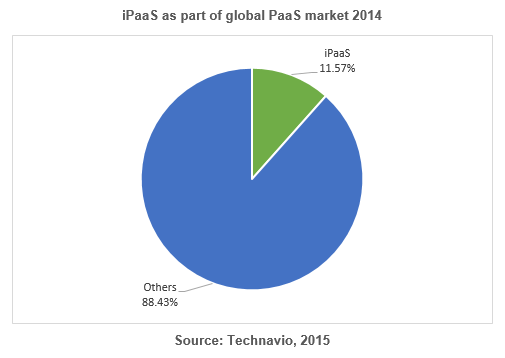 Key iPaaS developments to watch
Increased adoption among midsize enterprises
Technavio expects that over the forecast period, adoption of iPaaS will mpve from primarily large enterprises to the small and medium-sized enterprise (SME) segment, since a major reason to adopt iPaaS is to reduce capital and operational costs associated with computing resources within organizations.
SMEs usually have budget constraints when compared to large enterprises and, as such, opt for public cloud services to meet their business requirements. iPaaS—like other cloud services—generally involves relatively low CAPEX and OPEX. iPaaS providers are also providing additional tools such as business analytics and network optimization integrated with the solutions, which is going a long way towards encouring adoption of this technology across enterprises.
Emerging hybrid integration approach
The adoption of a hybrid model (which enable deployment of applications into public and private clouds) for developing and deploying cloud applications is on the rise.
This hybrid approach privides the best of both worlds from the two different approaches to cloud computing. It taps into the flexibility and low cost of the public cloud, but also offers the high-quality control and compliance generally sought from the private cloud.
Technavio offers a huge variety of research in the enterprise computing segment. For more information, check out www.technavio.com.