Mobile ads have become an integral part of how companies interact with their customers. Through display and search ads, companies can better reach their target audience by displaying ads directly on a given website, or by targeting specific keywords.
Technavio analysts have taken a close look at what's trending in the world of mobile ad spending and here's what they found:
Increase in Number of Mobile App Downloads
The increased penetration of Internet and mobile devices worldwide has increased downloading of mobile apps in the past few years and is expected to witness further growth during the forecast period. With the increased downloading and usage of apps, it is easier for mobile advertisers to understand the behavior of an individual and to cater to their interests and needs.
For instance, there are several ads posted in game apps such as Hill Climb Racing and Bubble Shooter, which are not related to games, but they are related to picture editing, music streaming, and safe lock apps. Therefore, as the number of mobile app downloads increases, this gives an extensive platform to mobile advertisers for the rapid growth of mobile ad spending.
Growing Number of M&A
M&A, strategic alliances, and partnerships are corporate strategies that help an enterprise to sustain its growth. They are undertaken to increase market share, gain new domain knowledge, enter new markets, lower operation costs, enhance industry know-how, improve profitability, and gain new clients.
M&A enable companies to further diversify their product portfolios by introducing new products for various industry verticals. They also increase the market reach of products, increasing companies' top line revenue.
Major companies such as Google, Yahoo, Twitter, and Flipkart have adopted these strategies to revitalize their market presence. Some of the major M&A are:
In March 2015, Flipkart acquired Adiquity, a mobile advertising company, for an undisclosed amount. This acquisition was made to enhance Flipkart's external marketing
In July 2014, Opera acquired AdColony, a mobile video advertising company, for $350 million, to strengthen its advertising subsidiary Opera Mediaworks
In July 2014, Yahoo acquired Flurry, a leading mobile advertising company for nearly $300 million
In September 2013, Twitter acquired MoPub, a mobile advertising company, for $350 million, to launch its own ad exchange
In November 2009, Google acquired AdMob, a mobile advertising company, for $750 million
An upsurge in market consolidation is therefore increasing the presence and reach of the global mobile ad spending market.
Growing In-app Advertising
The growing number of smartphone and tablet users along with a significant increase in the time spent browsing on mobile devices has resulted in an increase in in-app advertising. For instance, Angry Birds opted to use in-game advertising through showcasing floating advertisements by providing free downloads of its application.
In addition, there has been increasing in-app advertising for iPhone and Android users because of an overwhelming increase in the user base across these platforms. Advertisers have been increasingly using mobile applications for in-app advertising to generate additional revenue that propels the growth of the global mobile ad spending market.
Increasing Use of Mobile Search Engines
The ways of collecting and disseminating information has undergone vast changes. Billions of people collect information through the Internet by using search engines and therefore vendors in the ad network are leveraging on it. Google has launched a version of its search engine which is mobile-friendly making it a number one vendor in the ad network segment.
Rapid Growth in Programmatic Advertising
Advertisers are increasingly buying mobile ad space through programmatic media. Programmatic channels enable advertisers to plan, create, buy, and measure the effectiveness of mobile display ads.  In 2013, 65% of mobile display ads were traded programmatically and this is expected to reach 90% by 2017. The programmatic video on the mobile devices segment has witnessed a growth of more than 100%, which has outpaced the growth of desktop videos.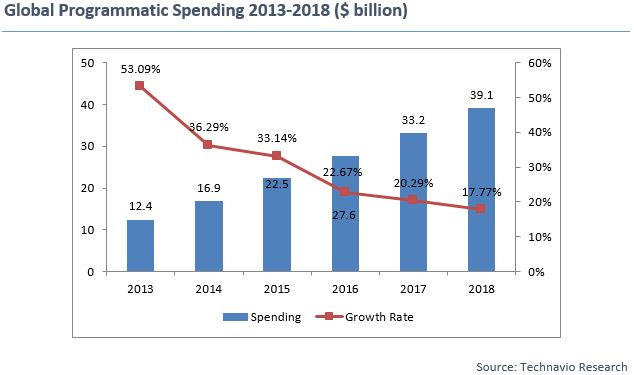 Exponential Rise in Real-time Bidding Buying
Real-time bidding is an emerging trend that is expected to increase threefold during the forecast period, accounting for about 50% of global digital ad spending. It enables brand advertisers to reduce advertising costs and provide transparency in the delivery of ads. It allows advertisers to fulfill their aims and provide value in every impression purchased.
In 2013, mobile real-time bidding accounted for 30% of total mobile ad buying and it will reach 45% in 2014. Twitter acquired MoPub, which is a real-time bidding mobile ad company, in 2013, to tap the opportunities in the global mobile ad spending market.
Wearable Technology
Digital content consumption is going to increase in the coming years. Smartphone manufacturers are developing and introducing various wearable gadgets that can connect to smartphones. Many of the digital content service providers are developing applications and interfaces that will support wearable smart devices enabling users to directly access data. The advent of new devices will provide an opportunity for the development of new platforms for mobile advertisements.
High Utilization of Social Media
Social media has become a major data source for many organizations because of the ability to provide instant feedback about videos, games, and music through blogs and social networking sites. Content developers are tapping social computing tools for marketing, branding, recruitment, and broad-based knowledge management initiatives, which will drive greater time and cost-efficient collaboration across global workforces.
By registering on social networking sites such as Twitter and Facebook, vendors test out new platforms to market their latest products, services, and solutions to gain public feedback and opinions. There is also a high demand to track end-user interactions in these sites. Also, organizations have realized the need to augment their data warehouses with external data sources.
With increases in the user base, 45-50% of social media platforms are used for brand advertising. Marketing departments are making efforts to understand popular content and search key words. They are also using sentiment and behavioral analysis platforms to understand the sentiments of customers' blogging or networking on their social network fan pages. Users spend more than 40% of their time on social media platforms on cellphones and this provides an opportunity for mobile advertisers to market their brand through social media.