Recently, Westjet and WOW Air—two low-cost airlines from Canada and Iceland, respectively—announced that they would be offering cheap flights from many Canadian cities to several European destinations, including London.
The popular transatlantic trip has, until recently, been the domain of full-service airlines, with only a few low-cost carriers (LCCs) offering the flight. And for good reason—while LCCs may help customers save money, full-service airlines offer passengers comforts like in-flight entertainment, checked baggage, hot meals and even pillows and blankets, all in the ticket price.
And even though saving a few bucks might be paramount for some travelers, the decreased comfort and hidden fees of LCCs has turned people off these airlines, and made them opt for the comfort of full-service for long haul flights.
Increases air passenger traffic expected
According to a new report from Technavio, with global air passenger traffic slated to increase by 4.9% over the next 20 years, full service carriers (FSCs) will reap the benefits, and attain a 4.13 billion seat capacity by 2020.
Major airports worldwide saw an increased number of passengers from 2013-2014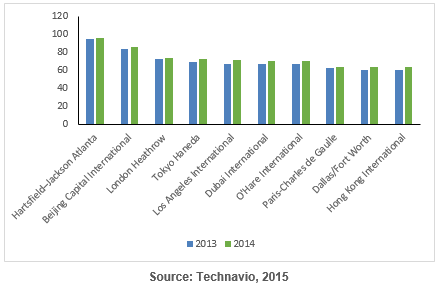 Emerging nations are driving market growth
Growing passenger air traffic is being propelled primarily by demand from countries in the APAC region, the Middle East, and South America. New flight routes are being made available, and additional aircraft will be added to existing fleets to cater to the higher number of passengers.
This bump in air traffic is because of strong economic growth in these areas, and emerging markets in Latin America, Africa, and the Asia Pacific region will see higher regional and domestic air traffic than Europe and North America.
The APAC region is leading the charge, and Technavio also expects domestic air traffic in China to become number one in the world within the next 10 years.
In addition to China, India and Brazil present high growth opportunities for FSCs owing to rising levels of urbanization, concentration of wealth, and the consequent increase in demand for air travel.
The high number of aircraft orders from these regions complements this increase in demand. Airbus expects to see continued demand for larger models that can fly on long haul routes and cater to both regional and domestic sectors.
The company expects to see demand for nearly 9,300 wide-body passenger and freight aircraft over the next 20 years, valued at approximately $2.5 trillion. This demand for wide-body aircraft will include 7,800 twin-aisle aircraft with 250-400 seats and 1,500 very large aircraft that have more than 400 seats for operation on the busiest routes. Nearly half of these aircraft will be delivered to operators based in the APAC region.