Growing support for marijuana legalization in the Unites States is creating a multi-billion-dollar industry out of the country's cannabis market. The market is expected to grow more than fivefold by 2019, to reach a market value of more than $16 billion. This number represents a cumulative average growth rate of more than 41% from 2014-2019.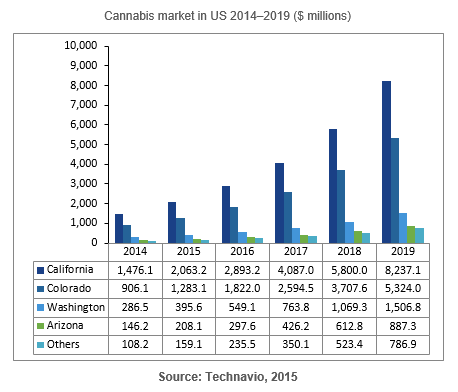 Steady legal domestic production is being credited for this impressive growth. It is estimated that every year about 22 million pounds of cannabis is grown, the majority of which comes from California, Kentucky, Texas, Tennessee, and West Virginia. These states contribute about 80% of the overall production in the country.
Additionally, many producers have adopted technology to develop cannabis plants indoors. The use of hydroponics and other advanced technologies have also enabled producers to increase the potency of THC, resulting in even higher market potential.
Technavio analysts have identified the top companies contributing to the success of the market which, combined with future legalization, are expected to drive steady growth in the cannabis market in the US.
Top 23 vendors in the US cannabis industry
---

American Cannabis Company Inc. ("ACC") owns and operates two vertically integrated businesses; American Cannabis Consulting and The Trade Winds. Combined; the divisions deliver end-to-end solutions for customers and clients within the regulated cannabis industry. Through the divisions ACC provides industry specific consulting advisory services and operational products; we utilize a Group Purchasing Organizational (GPO) strategy to achieve advantageous price points adding value for our clients. American Cannabis Company Inc. boasts a team of seasoned professionals from diverse industries such as healthcare, agriculture, regulated cannabis, construction and engineering.
---

It is our ambition to brand and market the highest quality, legal cannabis products available today – and to innovate the industry-leading products of tomorrow. We forsee a future where the hi brand is synonymous with the highest quality and best value in the cannabis space; a vision we plan to support through aggressive marketing and strategic alliances. While we honor the tongue-in-cheek legacy of marijuana puns that got us here, our marketing will nonetheless forsake the black and green, pot-leaf dominated art now common to the genre in favor of targeted messaging and product packaging designed for mainstream appeal.
---

At Cannabis Science, we use an inquiring approach to discover and develop novel cannabinoid-based therapies to improve patients' lives. From the initiation, our founders have been committed to fostering and maintaining a bold, pioneering spirit fostering the true nature of innovation from which cutting edge ideas flourish and translate into evidence-based solutions.
---

Cannabrand is a full-service cannabis branding agency, dedicated to the marketing of cannabis products and services. We partner with cannabis industry companies who are dedicated to making their brand image not only recognizable, but an experience for the consumer.
Cannabrand is at the forefront of the recreational marijuana industry with over 30 years of combined work experience. Well-versed with the regulations of cannabis advertising and marketing laws, we pride ourselves in partnering with elite cannabis brands.
---

Chuma finances, services and certifies companies in the legal cannabis industry. With over 35 y6ears experience, we have worked with over 500 dispensaries and production facilities. Focused on California and expanding throughout the USA, our seed-to-sale vertical integration increases profits for our cleints, and potential earnings for our investors.
---

At Dixie, we believe that cannabis is powerful, that quality is important and that accurate dosing is everything. Which is why, since 2010, we've been leading the industry through research, education and advocacy. And we've established ourselves as the trusted source for innovative, safe, effective and delicious cannabis products along the way.
We handcraft every product with pure, CO2-extracted THC and a process we're proud of. We go far above and beyond the mandated batch testing and triple lab test every product we sell. Because when it comes to cannabis, consistency and accuracy are highly important. At Dixie, we're a lot more than the producers of THC-infused products. We are the future of cannabis.
---

Eaze (www.eazeup.com) is an on-demand healthcare delivery service that enables patients to access medical marijuana easily, quickly and professionally via mobile device. Its proprietary technology automates patient verification and caregiver dispatch to hand-deliver medicine to patients in 10 minutes on average. Founded in 2013 in San Francisco by Keith McCarty, a seasoned tech executive who helped build Yammer (acquired by Microsoft), Eaze is expanding quickly to all states where medical marijuana is legal.
---

General Cannabis Corporation is the all-in-one resource for the highest quality service providers available to the regulated Cannabis Industry. We lease grow and related facilities (commercial real estate and equipment) to licensed business operators for their production needs.
We are pursuing ancillary business products and services including customized finance, capital formation, banking, regulatory compliance consulting, security and advanced logistical support for grow operations.
---

Greengro Technologies (OTC: GRNH) is a world class provider of eco-friendly green technologies with specific domain expertise in indoor and outdoor agricultural science systems serving both the consumer and commercial farming markets. It brings together community and commerce through the growth and distribution of healthy, nutritious foods and vital medicines backed by science and technology. Customers include restaurants, community gardens, small and large scale commercial clients. Greengro Technologies also provides design, construction and maintenance services to large grow and cultivation operations and collectives in the medical and recreational marijuana sectors.
---

Mainstream Cannabis Innovations Group (MCIG) Headquartered in Beverly Hills, CA, is a leading distributor of grow solutions and innovative consumer products for the global cannabis market. Grower services dedicates itself to individual as well as large growers. MCIG distributes products to consumers through Master Distribution Agreements, utilizing the industry's largest sales team and on-line channel marketing expertise.
---

Medical Marijuana Inc. is the first publicly held company vested in the legal cannabis and industrial hemp markets. Since 2009, we've led the industry in turning a stigmatized plant into one of today's most lucrative, impactful markets.
The company focuses on research and development of cannabinoid-based pharmaceuticals, development of commercial CBD hemp oil products, production and import of CBD hemp oil products, sales, marketing & distribution of legal hemp oil products and business services for the cannabis industry.
---

MedMen is the foremost turnkey management company providing services for the marijuana industry. Since 2010, MedMen has helped more than 100 businesses navigate the complexities of entering and succeeding in the legal marijuana market, from effectively completing state applications to managing the day-to-day operations of a mature business. Founded by entrepreneurs Adam Biermanand Andrew Modlin, MedMen brings together expertise in three critical areas—licensing, design and management—to help businesses enter the industry, maximize their space and brand identity, and grow a legitimate and stable operation.
---

Mentor Capital, Inc. is a public operating company that acquires and provides liquidity for medical and social use cannabis companies. Mentor takes a significant position in the various members of our family of participating companies, but leaves operating control in the hands of the cannabis company founders. Because adult social use and medical marijuana opportunities often overlap, Mentor Capital participates in the legal recreational marijuana market. However, Mentor's preferred focus is medical and the company seeks to facilitate the application of cannabis to cancer wasting, calming seizures, Parkinson's disease, reducing ocular pressures from glaucoma and blunting chronic pain.
---

MJIC's initial focus has been on scalable businesses that are one step removed from direct production of the plant. Each new cannabis cultivator or dispensary that comes into existence creates a ripple effect of economic activity through supporting industries, from fertilizers to marketing consulting.MJIC identifies businesses that we believe are solid investments on their own, but are also likely to benefit from the growth of legal marijuana. Many of these businesses existed before legalization, allowing for deeper capitalization and longer track records for our analysts to study. While these are still growth investments as opposed to blue chips, they cover a wider range of risk profiles than many of our shareholders initially expect – with substantial upside potential if the growth of the cannabis market proceeds as forecast.
---

Monarch America, Inc. is a fully integrated management and consulting company, delivering trusted high-value products, services, and turnkey solutions to the legal and regulated marijuana and hemp industry. While not directly engaged in the sale of marijuana or hemp, Monarch America is equipped to oversee and manage all facets of design, construction, and development of state-of-the-art marijuana cultivation facilities and retail operations, including property management, technology and equipment leasing, inventory control, staffing, and day-to-day operational management.
---

Natural Cannabis Company Premier Medical Cannabis Dispensaries. Locations: Santa Rosa (OrganiCann), Oakland (Oakland Organics), and Hopland (MendoCann).
---

Novus Acquisition & Development Corp. ("Novus") provides health insurance and related insurance solutions to the medical marijuana industry in states where legal programs exist. The Company also plans to offer physicians' education programs, pharmaceutical R&D, compliance, and business development services within the industry.
---

We're a small group of OMMP licensed growers who strive to create better medicine.
Less than a handful of growers, OGS is not a big company or corporation.  We do the testing, growing, breeding, harvesting, sorting, counting, packaging, and shipping… ourselves with our own two hands.
With over 30 years of working with the cannabis plant, we offer help and support to our patients and customers.  We strive to provide more than what our patients and customers expect – along with the best cannabis varieties for their needs, and that they could ever hope to grow.
---

Origin Cannabis Company is the first licensed marijuana grower in Bellevue, Washington. Our artisan-grown cannabis is grown in coco using only the finest nutrients. Hand-trimmed and cured to excellence, our sole focus is producing high-quality cannabis products for your enjoyment.
---

Our mission is to elevate the cannabis industry to higher medical standards by streamlining the prescription, cultivation and consumer cannabis selection process.
Our diverse technology offering blends robotics, artificial intelligence, DNA analysis and cannabis research to address the major pain points in the medical marijuana industry, benefiting patients, physicians, cultivators and dispensary owners. Together our three products create an enterprise technology platform for medical marijuana.
---

Privateer Holdings, Inc. is the cannabis industry's first private equity firm. Through strategic investments in the emerging legal cannabis industry, Privateer is building a portfolio of mainstream companies that elevate the conversation about cannabis. Privateer aims to change past perceptions of the marketplace by building brands set apart by their professionalism and operational excellence.
---

At Terra Tech our vision is simple: To help transform, through innovation, the way we feed the global population through methods that are both sustainable as well as environmentally friendly. We have the team, the products, and the resources to assist the "urban" farmer in increasing production with minimal environmental impact. By utilizing our processes and best practices in conjunction with our manufacturing capabilities and products our customers can be assured their agriculture goals can be achieved. Terra Tech is dedicated to a Greener World.
---

With the benefit of more than 30 years' combined experience, United Cannabis has accumulated an extensive knowledgebase across the spectrum of the cannabis industry, including engineered facilities, security, regulatory compliance, genetics, cultivation, good manufacturing practices (GMP), proprietary extraction methods, branding, retail operations (SOP), marketing and wholesale distribution.